Please click on the links below to download the 2023 Carnival materials
You can click on the Download All button, or download them individually.
The 2023 Carnival had even more concerts by some very talented people.  See the Ukulele Carnival Schedule page for concert times.
Thursday, August 17, 2023
We started with the outdoor concert at the Band Shell in Two Harbors, featuring:

THUG, Victoria Vox, Devin Scott and Ally McNatt, Ukester Brown,

Rhonda Laurie Smith, Tawni VanVleet, and the The Fishman Fender Band.

It was a  great preview of the upcoming concerts during the weekend.
Friday, August 18, 2023
Rhonda Laurie Smith performed in a mini concert.

Steve Solkela and his "overpopulated" one man band was in concert.

Devin Scott and Ally McNatt were in concert.
Saturday, August 19, 2023
Tawni VanVleet performed in a mini concert.

The Fishman Fender Band performed in a mini concert.

Victoria Vox performed in concert.
There are several motels and campgrounds in the Two Harbors area.  The best place to start is by going to the Two Harbors Chamber of Commerce website, which has a listing of local lodging.
If you like camping, I would encourage you to camp with us at the Carnival site at the Lake County Fairgrounds.  See below for more information.
Carnival Camping at the Fairgrounds
One of the reasons we moved the event to the Lake County Fairgrounds was to increase the room for much more camping.
The Fairgrounds is charging us $10 per week per camper hookup.  Our suggested donation for camping is $10/night with electric hookup, and $5/night for non-electricity. The extra donated money will help fund the Carnival. You will pay for your camping when you check in at the registration area at the Carnival.
Be aware that the electrical system will handle lights and refrigerators only; no air conditioning.
You will be able to camp starting

Tuesday, August 13, 2024

, in the afternoon.
You have to reserve your camping spot when you register online.  Please do not contact the Fairgrounds directly; they cannot handle your request.
At the 2023 Carnival we held a strum session around the campfire on Saturday evening.  There's something about playing and singing with friends under the stars with a campfire crackling in the background that is magical.  The weather was perfect!
M.U.G. (Massed Ukulele Group) Music
One of the benefits of attending the Carnival is the opportunity to play and sing with 200 or so other ukulele players. We do that in strum sessions but also with our Massed Ukulele Group music.
Each year we have different presenters select and teach M.U.G. music that we will all play during the Saturday afternoon concert. It really is something special to be a part of this group experience!
Our goal is to email the M.U.G. music to those who have registered about two weeks or so ahead of time. Then you can preview the music and take it for a test drive.  We also have a couple M.U.G. rehearsals scheduled for Saturday morning to clarify and fine tune things.
Chris Russell brilliantly taught a series of progressive beginner classes at the 2023 Carnival. Chris is a music educator with 27 years of teaching experience. This was a great opportunity to start learning the ukulele with numerous lessons over a couple of days.
Classes were scheduled at 9:00 a.m., 11:00 a.m., & 1:30 p.m. on both Friday, August 18th & Saturday, August 19th.  Each class built on the previous lessons.
There were opportunities for you and your group to try your hand performing a song or two during an open mic session.  There was open mic opportunities on Friday, August 18th at 8:00 p.m. and Saturday, August 19th at 1:00 p.m.
The Carnival's location:
Lake County Fairgrounds
1381 Fairgrounds Road
Two Harbors, MN 55616
This is still located inside the Silver Creek Township, so we didn't have to change our name.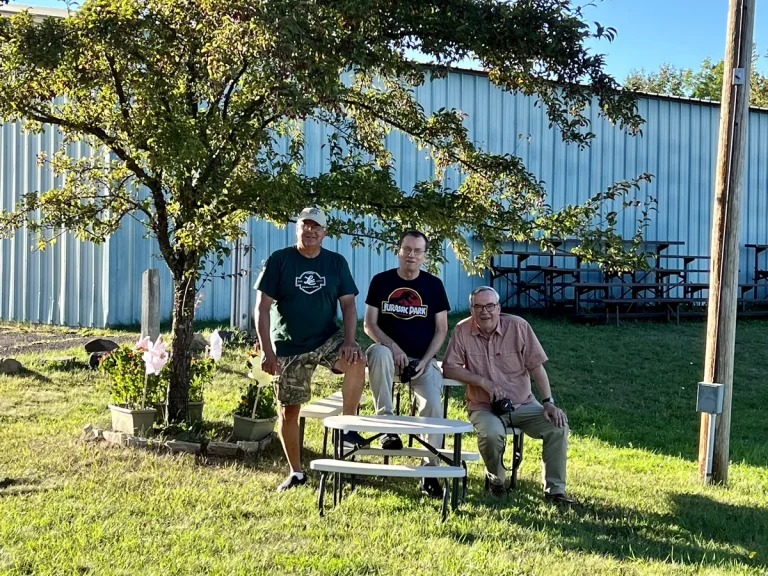 Dale Moe, Charles Finch, and Al Anderson
posing for a picture by the main Lake County Fairgrounds building during a scouting mission September 2022.
—Photo by Brenda Moe