Welcome to our site!
At this site you will find evidence of some of our escapades and a calendar of events.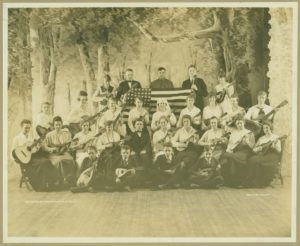 We warmly welcome beginners and usually hold beginner/refresher classes prior to our regular strum sessions. We have extra ukuleles available for those without an instrument. See our Schedule for dates, times, and locations.
We are available to perform at your club or organization meetings in the area. Please feel free to contact us for more information.
Please join us for our annual Silver Creek International Ukulele Carnival in August. The Carnival is a fabulously fun and educational gathering of ukulele players from all over the United States and Canada.
The 10th Annual Silver Creek International Ukulele Carnival has been canceled.
Due to the uncertainty of the COVID-19 situation, we are cancelling the Silver Creek International Ukulele Carnival for 2020.
Rest assured we are planning for a great SCIUC Tenth Anniversary blow out in 2021, so stay tuned to our website and/or our Facebook page for future announcements.
We will miss all our ukulele friends…but we know we will be strumming together again.
Stay healthy and keep strumming til then.
Two Harbors Ukulele Group