2018 Silver Creek International Ukulele Carnival
August 17-19, 2018
Silver Creek, MN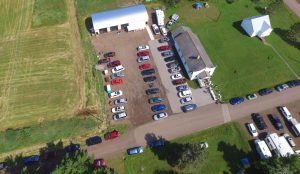 This year's Carnival is now over! What a wonderful time we all had with a really great bunch of ukulele players from a wide range of places.
Stay tuned to this page for updates and a link to the upcoming 2018 SCIUC archive page with photos and links to videos. If you have photos or links to videos you would like to share, please email them to: charles@twoharborsukulelegroup.com

The Silver Creek International Ukulele Carnival was founded in 2011 as a way to bring together ukulele players for fun and education. Hosting this annual Carnival is really a labor of love from a whole lot of volunteers, most of whom are ukulele players. This is a weekend designed to give you plenty of opportunity to spend time playing your ukulele with others.
This year's Carnival was on August 17, 18 and 19, 2018 at the Silver Creek Town Hall, Two Harbors, Minnesota. We had about 156 registered participants from 2 countries: 7 states and 2 Canadian provinces, for a total of 19 different ukulele groups.